Looks like Cisco VCX 8.1 brings H264 interworking between Lync 2013 and Cisco according to @rvaglid.
In March 2013, Shelly Marston (Senior Product Marketing Manager Lync) noted:
A basic assessment concluded positively that interoperability between Lync 2013 and Tandberg VTCs with Video Communication Sever (aka VCS B2B UA) was achievable with minor modifications of the VCS. With Lync 2013, transcoding is no longer required. Hence, there is no need for the expensive Cisco Advanced Media Gateway. In this new interoperability mode, the codec used natively by both systems is H.264 AVC resulting in a higher quality video experience for the end user than was the case with Lync 2010 interoperability. H.263 is no longer required. [highlight mine]
It looks like VCS 8.1 includes this "minor modification".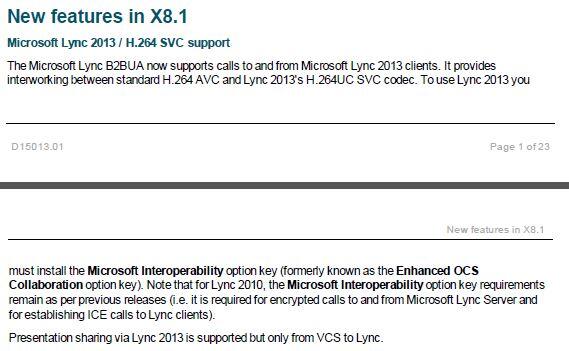 Interop Capabilities: (see page 9 of Deploy Guide here)
Presentation sharing from VCS to Lync 2013 Only
VCS requires a Microsoft Interoperability key
Thanks and Credit to @rvaglid
More:
http://blogs.technet.com/b/lync/archive/2013/03/16/video-interop-in-lync.aspx

VCS 8.1 Lync Deployment Guide:
http://www.cisco.com/en/US/docs/telepresence/infrastructure/vcs/config_guide/X8-1/Cisco-VCS-Microsoft-Lync-Deployment-Guide-X8-1.pdf

VCX 8.1 Configuration Guides:
http://www.cisco.com/en/US/products/ps11337/products_installation_and_configuration_guides_list.html

http://social.technet.microsoft.com/Forums/lync/en-US/ede8a77c-ec39-46dc-afe1-e6670c758382/lync-2013-and-cisco-vcs