The July 2013 update for Lync 2013 brings an interesting list of new features to WindowsPhone and now iPhone devices today (July 29/2013):
View shared meeting content during a conference, on your mobile device
Invite additional participants to an existing conversation or conference
Rejoin an ongoing conference after you left it
Control attendee participation by muting or removing them if needed
Transfer your calls to another phone-number or another contact
Pick-up your conversations from the point you ended them
Option to clear your entire conversation history
With Lync 2013 mobile rapidly getting feature parity (plus Instant Message, Meeting Join, video) with many dedicated DECT/Wifi portable phones, does this spell the beginning of the end of the relevance of portable phones in Lync environments? At one time costly controller based WIFI was prohibitive, but with extremely affordable WIFI now supporting zero-handoff what stands in the way? For ruggedization an iPhone combined with Otterbox case is a solution many are already familiar and comfortable with. Unified mobile device management using already familiar tools like SCCM and Intune will also make this route look appealing over learning a new device management tool for a specific vendor. (thanks for nudging me with this pointhttps://twitter.com/UriBrown1 @UriBrown1) Up until now standing up DECT technology involved more than just registering an endpoint device to Lync, why not use the mobility infrastructure already configured for standard mobile devices?
So to summarize some of the benefits of consumer mobile phones over dedicated portable phones
All the features of traditional portable phones plus Presence, IM, Video, Meeting Join
Ruggedization via well tested Otterbox cases
Familiar & unified device management via Intune/SCCM
Use server infrastructure already setup for mobility
Zero handoff WIFI dropping in price
Custom apps for handheld device using familiar SDK
QWERTY & advanced keyboards
Many device
What are some challenges to using a consumer mobile phone?
iOS devices without carrier data may have a problem waking the device via WIFI
Currently there are still some features not in the mobile edition of Lync 2013:
Placing a call on Park
Transfer directly to Voicemail
And I have to admit the Spectralink 84xx series WIFI portable phone is quite nice (see review), but is the writing on the wall for dedicated portable DECT & WIFI devices? (especially in Lync eco system)
Windows Phone Update released several weeks ago
http://www.windowsphone.com/en-us/store/app/lync-2013/d85d8a57-0f61-4ff3-a0f4-444e131d8491
iPhone Update released just today 7/29/2013:
https://itunes.apple.com/us/app/microsoft-lync-2013-for-iphone/id605841731?mt=8

iPad Update released:
https://itunes.apple.com/us/app/microsoft-lync-2013-for-ipad/id605608899?mt=8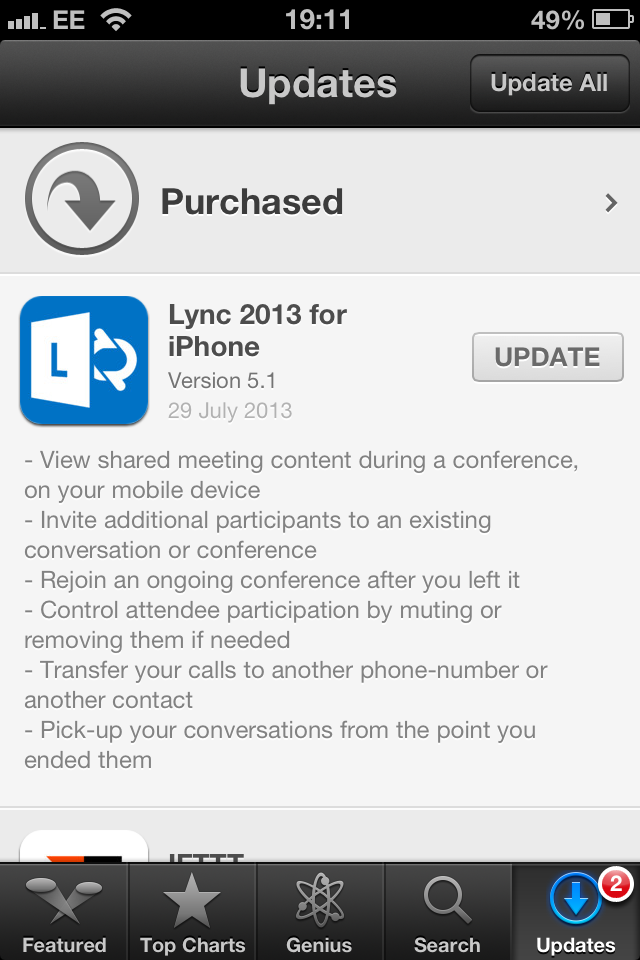 via @timedeville